I am against men's boxers. I love them and prefer them most of the time especially when I am in the mood of relaxing. Boxers for men are easy to handle, comfortable, and light on the skin but they shouldn't be worn on Valentine's day. The underwear styles for Valentine's day should be more than just comfort, it should offer support, must be fashionable, and boost your confidence. Of course, we are in favor that you should wear underwear, but not boxers because they are the most impractical, childish, least sophisticated, and worst-fitting option. Trust me, there are other styles of men's underwear that can provide you better comfort without making you look like a boring person or someone with the least fashion sense.
Styles like men's jockstrap, men's brief underwear, and bikini underwear are some of the styles which you can consider for Valentine's Day. So, it's better to save your male boxers for days when you don't feel like doing anything.
Disadvantages of wearing men's boxers
Men's boxers are a loose fit and not at all constricting and because it's loose-fitted men's underwear hence you cannot expect good support from them.
The second biggest disadvantage which you will face if you opt for men's boxers this Valentine, it will be bunch up. If you are planning to wear skin-fit jeans along with boxers, all you will get is bunch up and can be visible to another person as well if you bend, by any chance. I feel going on a date and revealing your men's underwear to your date isn't a great idea.
Men's boxers come with a thick waistband which can be very irritating. And I feel when you styles like a jockstrap, men's bikini underwear, thong, or even g-string coming up with extremely thin waistband, you shouldn't opt for boxers. Now, the question which arises is " if not boxers, then which style to wear on Valentine's Day"?
Styles of men's underwear to pick for Valentine's Day
Jockstrap underwear is the ideal style for people who are fitness freaks as the elastic straps used in it enhance the shape of your butts. Furthermore, the pouch element in it keeps your manhood safe and sound. Moreover, your thighs and butt get a nice exposure hence you get to flaunt them.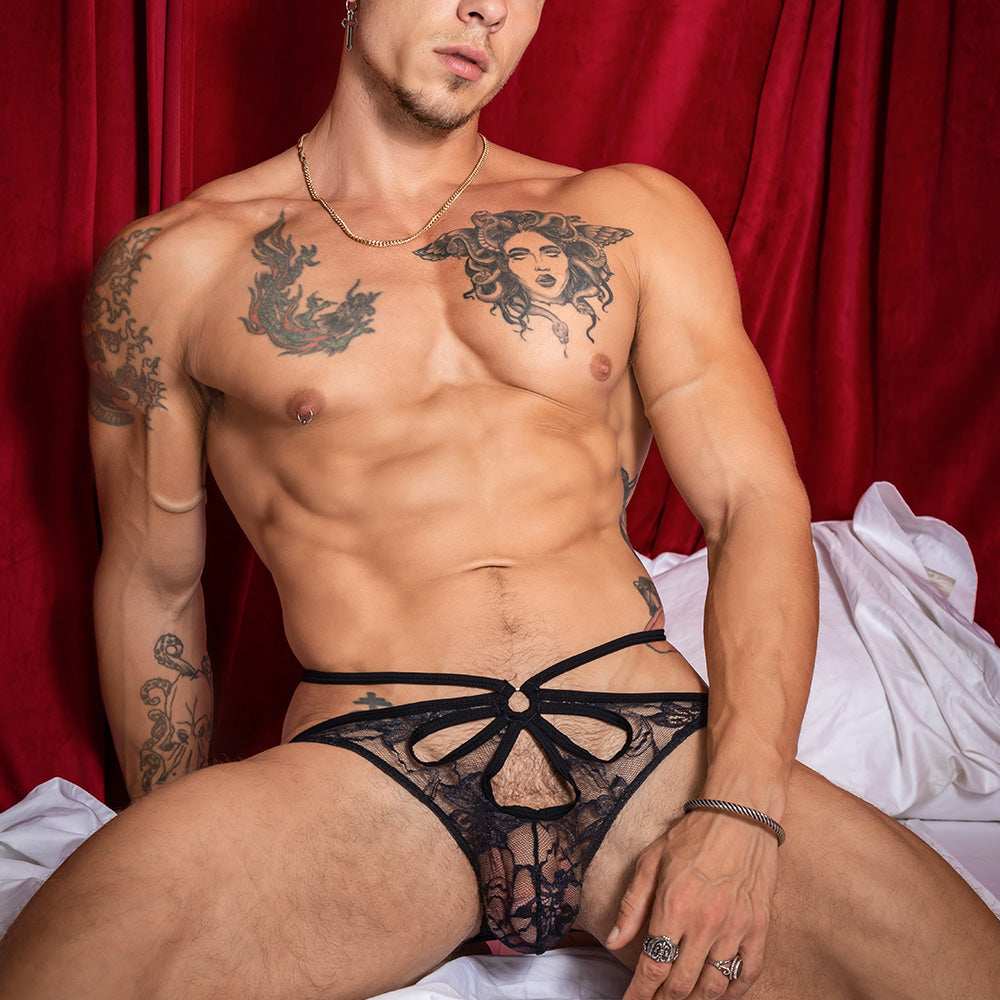 Above all, men's jockstrap underwear is available in different fabrics and offers comfort, support, and breathability. Today, you can shop male jockstraps in different fabrics.
In case you find jockstraps slightly uncomfortable, I have another interesting and sexy style of male lingerie called men's bikini underwear. Bikini underwear is usually considered for females, however, designers have introduced bikinis for men as well. Bikini underwear for men is great for beginners because along with exposing your thighs, this style of male lingerie provides you the right coverage.
Men's thong underwear is another safest option for beginners. Because it's low-waist and does not reveal their shape to their other person, hence you feel more confident. Furthermore, the lightweight feature of this lingerie style gives you the feeling of going commando.
The best part is, thong underwear for men is available in different fabrics. Hence, you get the freedom to choose accordingly.
Conclusion
As mentioned above, boxers are loose-fitted, comfortable, offers great coverage, and so on. It comes with all those features which a man looks for in any type of underwear. But, Valentine's Day is not the right occasion to wear unless you spot boxers made in satin or silk. Otherwise, try something different and surprise your partner.
You May Also Like:
Men's lingerie styles to try this Valentine's Day
Kim Jones Top Five Looks From Dior FW22 to rock with men's jockstrap
Rihanna Valentine's lingerie line is for anyone who wishes to look sexy
This Valentine say "I LOVE YOU" in the swag with man thong
Planning for Netflix and Chill this Valentine's? Checkout these pairs of men's G-string underwear