Valentine's Day is the best time for Netflix and chill. Netflix platform offers great date night movies and watching them can easily ignite the romance between couples. In this underwear blog, we will take yours through the best pairs of men's g-string. But before that, let's make you understand what does Netflix and Chill mean.
What Do Netflix and Chill Mean?
All those people who just use this phrase for fun must know it's not what you think. Netflix and chill stand for watching Netflix with someone with whom you have hopes of hooking up. I hope you are not giving any wrong hopes to another person.
If you are someone who wants to take their relationship one step ahead and wants to make "Netflix and Chill" more interesting, try out these sexy pairs of men's g-string underwear.
This sexy pair of men's g-string underwear by Daniel Alexander is appropriate for Valentine's Day.
This pair of g-string underwear is quite explicit as it comes with sheer fabric on the pouch. Further, to make this look more attractive, designers have added contrast-colored piping.
The string-like waistbelt gives a nice exposure to your features specially to your thigh and butt areas. The logo of the brand is on the pouch section. As a result, there is no question of discomfort caused due to tags.
Good Devil's Wanks G-string underwear is slightly different from your usual pair of male g-string. This sexy pair of men's g-string underwear enhances your physique efficiently. The sheer fabric used in the pouch gives a nice glimpse into your manhood. So make you are cleaned down there.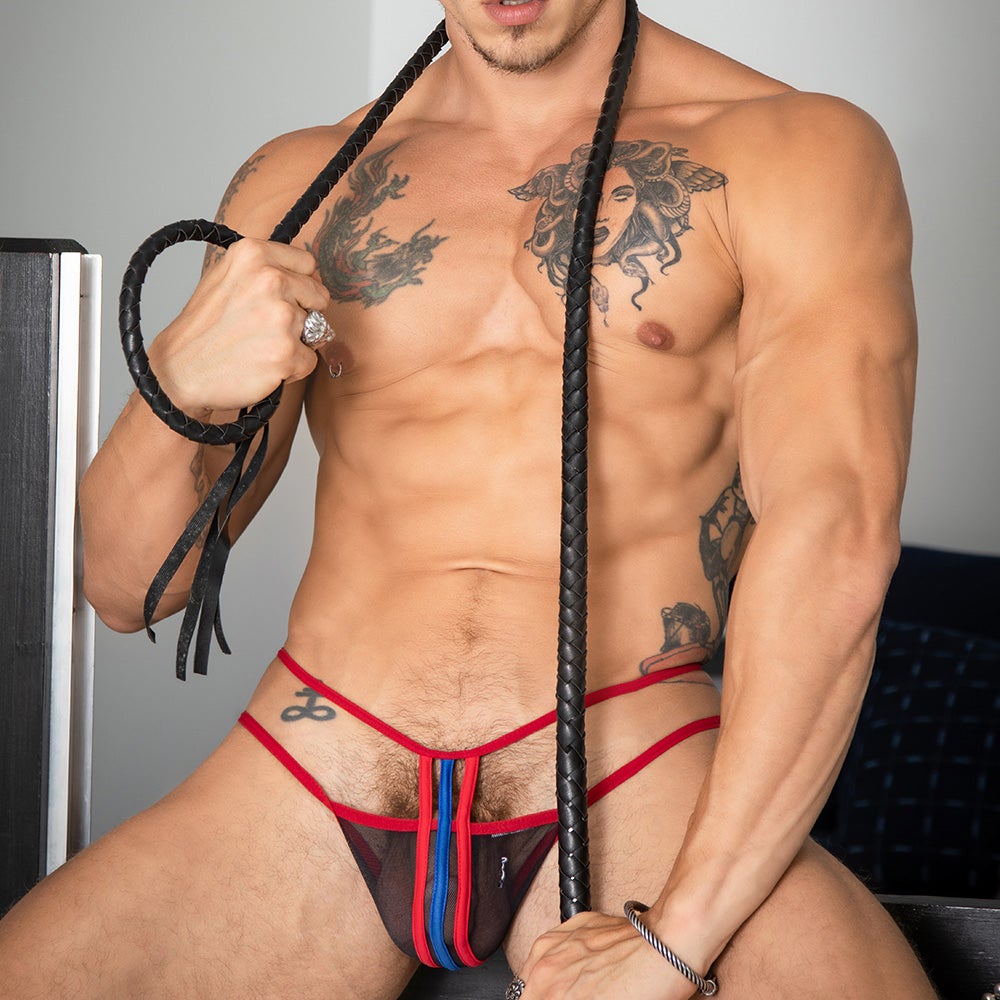 In the front, Secret Male portrays this man in g-strings, which is as exposed as it gets. The pouch provides your private bits with plenty of areas and allows them to relax every time you wear it. This sexy pair of men's g-string underwear offers a more refined look by adding a touch of elegance.
This pair of g-strings for men even provide an excess amount of skin show to your admirers in addition to the pouch. Furthermore, the waistband in this pair is made up of two strings that are linked to the cloth. The strings attached in this style support your buttocks at the back. Along with support, your buttocks are accentuated as well. Furthermore, this is the g-string for men you'll want to stock up on if you're planning a romantic evening with your significant other and want to look your best.
Because of the sheer fabric, wearing this Good Devil Hustler G-String is surprisingly pleasurable. The fabric's design enhances the male's beauty. Because of the seductive cut on the pouch, this g-string underwear stands out from the rest of the competition on the market.
The male g strings have a double stitched side for added comfort and durability. Because of the high breathability of the fabric used in the men's sheer underwear wide waistband, the below assets will be fairly comfortable. Furthermore, the upper portion of the pouch is constructed of sheer fabric, giving the underwear a sultry and sensuous look. Made of polyamide and spandex, this g-string underwear for men is exceptionally smooth and pleasant to wear. This male g-pouch-cut string style provides comfort to the underarms while also creating a lovely curvature on the lower torso.
So, when are you planning to purchase them?
You May Also Like:
Hot male underwear brands to consider this 2022
Men's lingerie styles to try this Valentine's Day
Kim Jones Top Five Looks From Dior FW22 to rock with men's jockstrap
Rihanna Valentine's lingerie line is for anyone who wishes to look sexy
This Valentine say "I LOVE YOU" in the swag with man thong