Swimwear is ideal for beating the heat throughout the summer months. Previously, it was solely available to females, leaving the male counterpart with few options when it came to wearing trunks at the beach. However, because fashion has a good effect on every aspect of human civilization, men's trunk swimwear was not overlooked, and it became trendier, elegant, and sexier with each passing day!!
Swim briefs swim bikinis, and swim thongs made of various fabrics are now available on the market in a variety of designs and styles. Designers are now inventing new designs daily to showcase the man's body in a highly appealing manner. Men's Flag Swimwear is one example of this, as it allows you to wear your country's flag as a swimsuit. This is why there are so many different colors, designs, patterns, and cuts to choose from. To impress your partner, you might flaunt your sensual tanned physique. Women admire men who are comfortable in their skin and can entice them with their charisma and physicality.
In this men's swimwear blog, we will focus on the best styles of men's swimwear that can make your summers more happening.
Hung HGJ007 Brief
It's tough to find underwear that is both comfortable and breathable while still being stylish. This Men's Brief is made of 100% mesh fabric, which allows for proper airflow from the front and back without sacrificing comfort.
Because the Men's Brief Underwear has multiple small pores, you won't have to worry about sweating while wearing it. The Male Briefs include a two-color piping design on the front side. Two vertical in stripe piping colors are the same, while the middle vertical stripe piping is a different color. The pouch is quite useful and gives your diamonds a nice amount of bulging. There's enough room for you to put your underwear in a comfortable posture. This men's mesh brief allows you to show off your flesh without having to change out of your underwear. The waistband of the MensSports Briefs is supportive and extremely comfortable to wear.
Agacio AGG056 The West Cost Swim Trunk
If you enjoy mixing and matching colors in a single piece of clothing, this swim trunk for guys is made specifically for you. Because this male swim trunk is made of a silky and smooth fabric with a three-tone front coverage that is put parallel to each other. This men's swim trunk is made of a soft fabric that allows you to wear it all day. If you're going on vacation, to a pool party, or wherever you're going, this guy's swim trunk will be perfect for all of them. So, what are you waiting for? Go ahead and purchase this pair right now to accentuate your lower body?
Agacio AGG055 Ocean Swim Trunk
There are many swim trunks on the market that come in a range of colors and designs that make you appear very attractive. Besides its attractive look, this swim trunk is stylish and comfortable.
Because this underwear is constructed of a particularly soft, silky, and shining fabric, you will never have to compromise on comfort. It also includes a two-tone color cloth that divides the men's swim trunk into two different hues horizontally. This is now one of the highest-quality male swim trunks on the market, providing the most comfort to your body. If you're looking for a stunning pair of underwear that, has it all and won't let you down in any manner, this swim trunk for guys is the way to go because it will never let you down.
Daniel Alexander DAK057 Thong
If you're looking for a delicate and sensual design made of breathable fabric, you've come to the correct place. This pair of men's thongs have printed motifs on the inside of the pouch, giving you the impression that you're wearing a work of art. This pair of men's thongs have double stitching on the side, which makes it more durable and allows you to wash it numerous times without sacrificing anything.
Because the man thongs are so light, you'll think you're not wearing anything below. As a result, you'll be able to enjoy every moment of your life without having to worry about bulky or heavy underwear. The high-cut design on the men's mesh underwear makes the wearer appear more appealing and makes it comfortable to wear all day because it allows you to move your legs freely.
Daniel Alexander DAK058 Thong
Everyone likes sexy-looking underwear with a cool design. This pair of men's thongs are made of a gorgeous, shiny, silky, and robust fabric that provides you with the comfort and support you need to wear them all day. Furthermore, it features a tempting design on the front and back that is sure to catch your partner's attention. The waistband of male thongs is tiny, yet it is incredibly stretchy and robust. So there's no use in waiting and not having a stunning pair of underwear because the back is likewise made of sheer fabric. Your buttocks are seen thanks to the men's sheer underwear.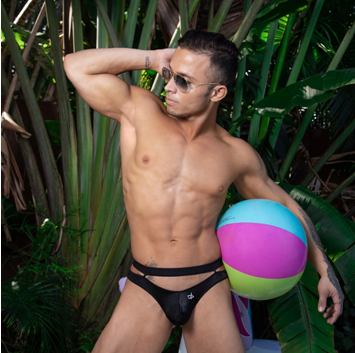 This seductive underwear for guys gives you the sensation that you are the most powerful and sexiest man on the planet.
Conclusion
Swimming is the ideal method to express yourself, and you can give your girl erotic feelings by wearing an attractive yet beautiful swimsuit. Women will find it difficult to ignore you, and you will be able to exhibit your best physique traits. Water is the finest way to put out a fire, yet your seductive charm will ignite the water.
You May Also Like:
Rihanna Valentine's lingerie line is for anyone who wishes to look sexy
This Valentine say "I LOVE YOU" in the swag with man thong
Planning for Netflix and Chill this Valentine's? Checkout these pairs of men's G-string underwear
This is the reason why I don't wear men's boxers on Valentine's
This Valentine's Day don't be single with mens bikini underwear