Which types of underwear are best for men is the most often but awkward inquiry. Know your ideal fit based on your body type and form from a variety of underwear types and men's underwear styles. Continue reading to learn more and prevent embarrassing and uncomfortable situations for yourself.
The fact that the wrong pair of underpants will certainly ruin your entire day rarely gets mentioned. Your job will be distracted by an odd fabric and a lack of support, and you won't be able to concentrate on it no matter what. Sadly, males don't place much value on their underpants. The best underwear for men need not be difficult to choose, though.
The Many Men's Underwear Styles
Don't want your underwear to put you in an uncomfortable or unpleasant situation? You'll have a terrific day if you wear one of the four varieties of underwear for guys that are listed below.
1. Boxers: Better Lighter Mens Underwear
Men's boxers tend to be more loose-fitting. It offers more breathability than the other four varieties of men's underwear, yet offers zero support. The majority of boxers provide a fly exit for the user. Since there are numerous varieties of boxers on the market, there is one that will fit every individual. Boxers are also fantastic to wear every day, particularly during sporting events. Men can choose a looser fit for greater leg support.
You should check out the 2xist Dream Knit Boxer. They are constructed of 57% Pima Cotton/38% Modal/5% Spandex and are excellent for the summertime. Additionally, boxers go nicely with fitted dress pants, slimmer-fitting bottoms, and shorts.
2. Combining Boxers And Briefs – Boxer Briefs
One of the many varieties of men's underwear that a man cannot compromise with is the men's boxer brief. They stand in for the two main categories of underwear and, more significantly, they offer the proper level of support. They are primarily made to imitate a tapered, snug boxer. They are equally as comfy to wear all day as briefs are.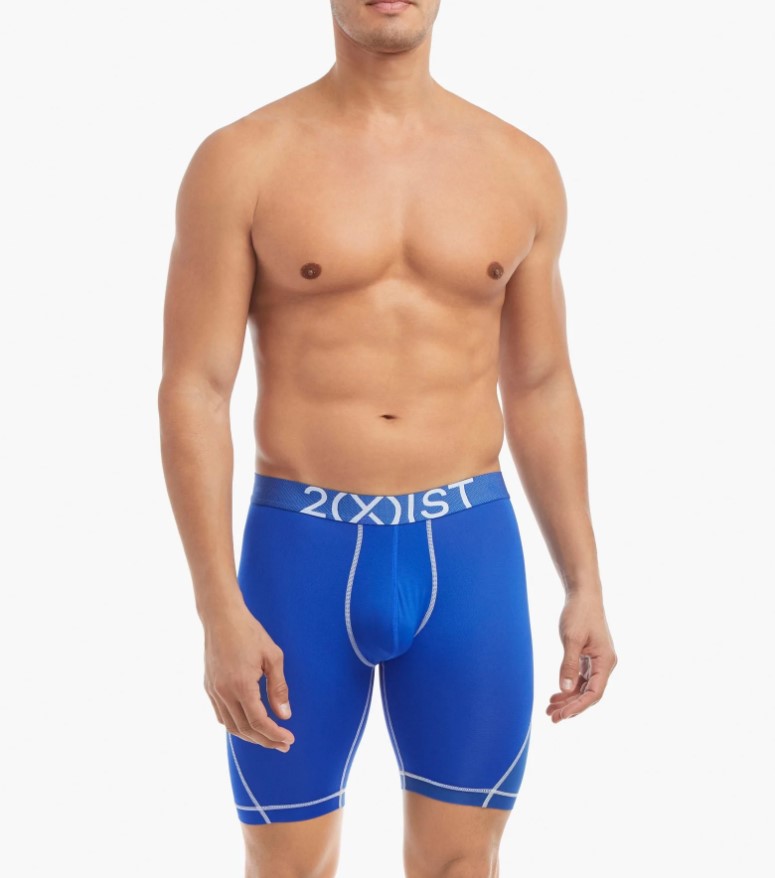 Even if you are not in the best of shape, boxers and underwear can be worn with a t-shirt while engaging in strenuous activity. They typically have an average rise at the waist and extend halfway down your thighs. They complement cold wool, denim, and rough textiles wonderfully.
3. The Most Common Style Of Mens Underwear Is Trunks
These underpants are typically found in the wardrobes of men. They are a basic set of underpants that you can use for practically any situation. Briefs from Calvin Klein come in a variety of styles, heights, and hues. Furthermore, they are available in a huge selection of patterns, heights, and colors. They completely enclose your pelvis, but they leave your upper thigh and side of your leg exposed. They are ideal for men who need support and are at ease being worn with any combination. Additionally, they are ideal for everyday wear as well as sporting occasions. Of all the men's underwear designs, they are the most popular and the best fit.
Men are frequently perplexed about the best types of underwear to wear, whether they should wear men's boxers or men's briefs, which is the greatest option, and what the distinction is between the two. Boxer briefs are more appropriate for mature guys because they need something that is a little more cushioned and covers their thighs.
Boxers closely resemble shorts, giving the impression that your lower body is larger than usual. Boxers, therefore, are for fit males who have proportional disproportions and are a little bit on the slimmer side. However, you shouldn't work out while wearing boxers and a vest since they can operate like a loose cannon. Briefs enclose the body and offer support. Sadly, not every man is blessed with a muscular build fit for a model or athlete. Despite this, they offer more support than boxers while yet allowing for total mobility. Even while briefs don't cover the inside of your thighs, they reduce the likelihood of wardrobe malfunctions. Additionally, there is a potential that you will chafe as your body moves.
These printed boxer shorts for guys will make you feel comfortable. You won't need to worry about changing in the middle of a workout because they are ideal for wearing all day and all night. In no time, these boxer briefs will have you feeling young!
So, what do you think of these mens underwear styles? Which one would you choose?
You May Also Like:
Rihanna Valentine's lingerie line is for anyone who wishes to look sexy
Planning for Netflix and Chill this Valentine's? Checkout these pairs of men's G-string underwear
This is the reason why I don't wear men's boxers on Valentine's
This Valentine's Day don't be single with mens bikini underwear