How Halloween Inspire Mens Underwear?
Halloween is just around the corner, and preparations are moving quickly. Are you prepared for the occasion? Most certainly, you started carving pumpkins, gave your houses a hideous makeover, and even started marking off the list of things you need this year. Have you planned what to wear this season yet? You may have come to the same conclusion, but how will you celebrate the occasion with your partner?
There are countless Halloween realities that you may or may not be aware of. Additionally, different regions of the world observe the occasion in different ways. Visit them on this page. Men's underwear dress patterns and how they have evolved are undoubtedly one of them. The variety of men's ensembles, starting with the less eerie ones that are intended for perpetually shooing away apparitions, have evolved into men's seductive underwear as well. All things considered, why would you need to have fun outside if you have a partner with whom you can act pretend and create some very memorable moments?
Let us take a look at some Halloween-inspired underwear for men. Some are sexy, some for fetish, and some are simply good-looking offering a lot of support to your junk. Let us go check them out now.
1. Male Power Hard Time Costume
If you want to have fun and intend to go down and dirty, this Male Power Hard Time costume is a sexy affair. It looks like you are going to have a playful roleplay session. However, the back has something kinkier for you. The jockstrap underwear-like opening in the back allows easy access for breathability and a lot more (you don't want me to spill the beans for sure).
2. Secret Male Lace Babydoll
The sheer accessory with lace trimmings is the perfect option to ignite love and passion on Halloween. The baby doll looks absolutely delicate, sexy, and scintillating. The intricate and feminine detailing on the fabric makes it to be a fantastic companion for your romantic affairs. In fact, you can choose to either go commando display the assets or sport it with a pair of male thongs or any lace underwear. You can choose from color options like red, black, or white.
3. CandyMan French Maid Costume Outfit
CandyMan has always been the naughty, kinky, and provocative brand in the mens underwear industry. When it comes to costumes for Halloween, the label has SO MUCH to offer men. In fact, the entire collection is about bringing out fantasies to the forefront.
One such product is this French Maid costume for men. The set features a garter belt attached with a collar and black tie, wristbands, and panties. However, as the image shows, the tights are not included in the set.
4. MOB Lace Waist Thong
If you don't include lace in your romantic affairs, how is it going to be romantic after all? Take a look at this Lace Waist Thong for a second. Isn't it something that your partner would love touching, caressing, and then finally taking it off?
Softness, suppleness, and sexiness are something that every man must experience at least once. In fact, Halloween 2022 is certainly the time for it.
5. Shinesty The Bare Back Bones
If you're looking for something supportive, full of coverage, and masculine yet peppy, this mens boxer brief is your best bet. The print certainly makes you remember the song "The hip bone's connected to the back bone. The back bone's connected to the neck bone.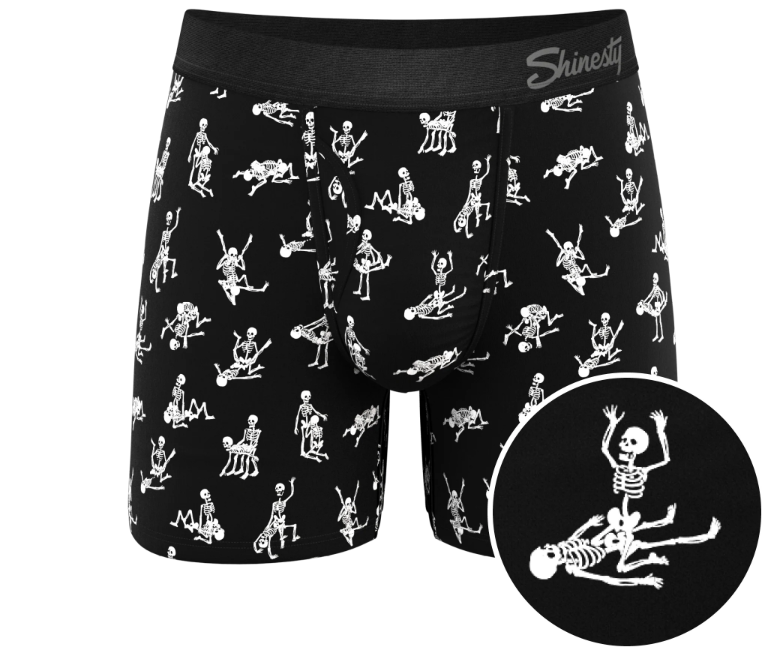 The neck bone's connected to the head bone." With the pouch underwear technology, you can rest assured that your junk is in good hands.
You May Also Like:
Rihanna Valentine's lingerie line is for anyone who wishes to look sexy
Planning for Netflix and Chill this Valentine's? Checkout these pairs of men's G-string underwear
This is the reason why I don't wear men's boxers on Valentine's
This Valentine's Day don't be single with mens bikini underwear