Features that make the COCKSOX CX68ME MESH TRUNK a must-have
Sheer fabric is the biggest highlight of this men's underwear. Further, sheer fabric is lightweight because which person wearing such pairs feel great. The person feels as if nothing is covering your manhood. Moreover, it comes with a pouch that holds your package very well. Furthermore, designers have used piping around the pouch area which enhances the pouch element more. Apart from that, COCKSOX creators have added piping on the hemline of the underwear.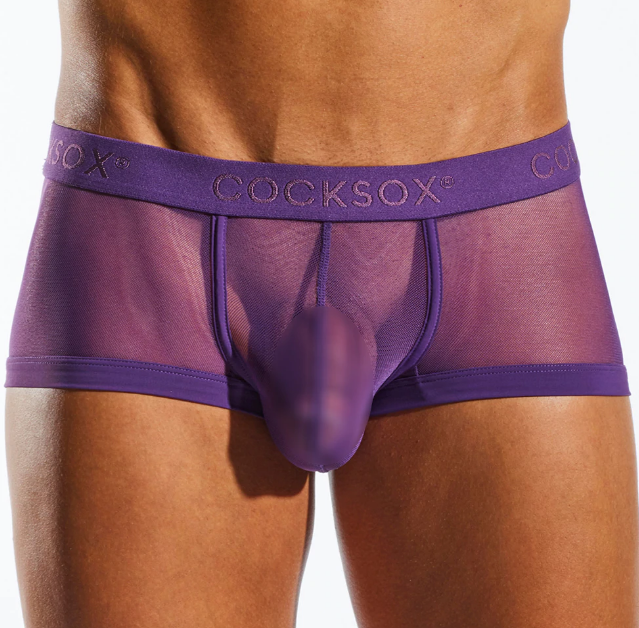 Moreover, the waistband is broad enough to provide a decent amount of hold on your waist.
Why have COCKSOX CX68ME MESH TRUNK?
One of the biggest reasons to have this style is that it is from COCOKSOX, a brand that is known for best-defined pouches. The support of the pouch in COCKSOX underwear is even suitable for walkers, runners, athletes, cyclists, laborers, as well as highly active men. Moreover, the SUPPLEX® fabric used in creating these styles wicks away moisture.
This sexy pair of men's trunks are breathable, fast-drying, ultra-light and how can we forget, sensual!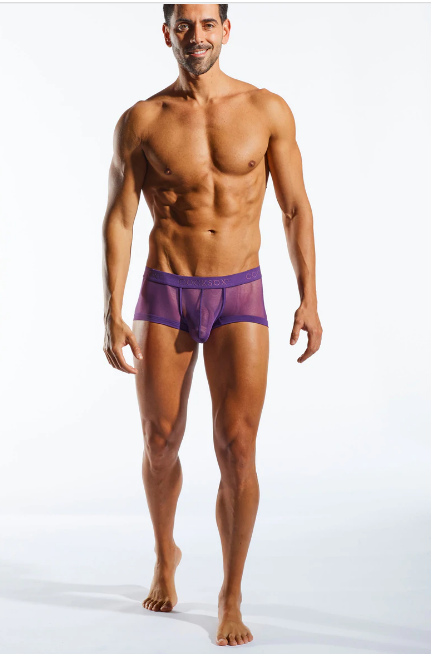 Why you shouldn't have this men's underwear?
None
About the COCKSOX
COCKSOX is a men's underwear and swimwear brand which designs styles specifically for the male anatomy. Each pair of Cocksox fulfills these three categories- support, comfort, and enhancement. Moreover, the brand offers men's underwear styles that support your manhood.
The pouch element in Cocksox's underwear range is one of the best things. Each style support manhood of walkers, runners, athletes, cyclists, laborers, and highly active men. Moreover, the SUPPLEX® fabric wicks away the moisture that lets the wearer feel fresh and is appropriate for all situations especially in which comfort is the key factor. From truckers to pilots to hospitality workers, everyone can consider Cocksox's men's underwear.
Product fitting
Snug-fitted
Best occasions
Sexual intercourse
Fabric composition
95% Nylon 5% Spandex
Available sizes
Why would we recommend COCKSOX CX68ME MESH TRUNK?
Recommending this pair of men's trunks becomes mandatory after all it belongs to the COCKSOX family. COCOKSOX is known for providing the best pouch which makes any pair suitable for anyone.
COCKSOX CX68ME MESH TRUNK offers other advantages such as being comfortable, the right support, and an immense amount of breathability. Moreover, sheer fabrics have a lightweight quality that gives a soothing feeling to the skin. Furthermore, this sexy male underwear is suitable for every type of man. Besides that, this pair of men's trunks offer a glimpse of your physique therefore, it becomes important to clean your private parts. Moreover, Nylon and Spandex enhance the stretachability of this pair.
COCKSOX CX68ME MESH TRUNK is breathable, dries up quickly, and is sensual too. Therefore, you can wear it on special occasions. Also, this sexy pair of men's trunks enhances your physique very well. COCKSOX CX68ME MESH TRUNK offered COCKSOX is available in different colors such as Black shadow, Cool Wave, Mystique, as well as Tranquil Blue.
Price
$29.00 USD
Buy it here: https://www.erogenos.com/products/cocksox-cx68me-mesh-trunk?variant=42356490436795
You May Also Like:
Get motivated with HIBISCUS SILK BOXERS- Tom Ford
Know why Marco Marco Core Brief underwear is the best fit
Why don't you give chance to silk men's underwear?
Have you checked the New Arrival of Good Devil Men's Trunk Underwear?