When we say about mens gay underwear range, that doesn't mean styles would be out of a box or unique styles. Styles of underwear that are included in Mens gay underwear range are your regular styles, but with a twist of exoticism and hotness.
Let's find out which styles have a special place in the heart of gay men.
STYLE 1: MENS JOCKSTRAP UNDERWEAR
The first style of men's underwear which belongs to the mens gay underwear category is none other than men's jockstrap. Well, there is no surprise because we all know that jockstraps have a special place in gay men.
Mens jockstrap underwear comes with features like a pouch, elastic straps, and a waistband. This style is made for daring personalities and for those who like to flaunt their features. These features not only supports your manhood but embrace your features as well. They keep everything quite comfortable in your lower areas.
One of our favorite pairs of jocks that are included in the mens gay underwear range is Miami Jock Metal Ring Jockstrap, Miami Jock Shaft Loop Jock, and Good Devil Metal Ring Jockstrap from Mensuas. Do give them a shot.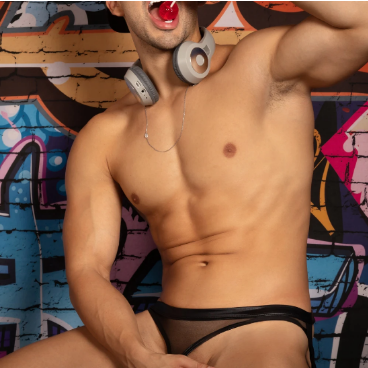 STYLE 2: MENS THONG UNDERWEAR
Another style which you will find in this mens gay underwear range is mens thong underwear and its killing designs are the reason for becoming popular among the gay community. Besides the great silhouette, it is famous for its incredible features. Thong underwear for men comes in less fabric and gay men are thankful for that. This delicate pair of mens underwear offer good breathability and extremely lightweight on the skin. This pair of lingerie is known for boosting up confidence.
Additionally, thongs help gay men's butts look more full. One who wears thong more often will accept the fact that this style of lingerie does not support embarrassing underwear lines which are common in other styles. In short, they are unbelievably freeing.
One of our favorite pair of men's thong underwear is from Andrew Christian- Glam Animal Thong, Troop Sheer V-Thong, and Almost Naked Premium Air Thong.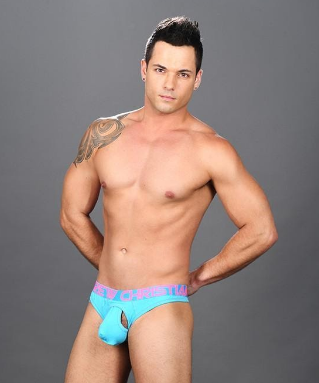 STYLE 3: BODYSUITS
Like mens jockstrap underwear, bodysuits are skinny and offer good exposure, and are highly loved by the gay community. This one-piece mens underwear is unbelievably perfectly sized, which complements your features beautifully. Speaking about the design part, they have profound cuts in the front and back, which firmly covers the groin and butt region. Bodysuits might appear feminine but they are completely manly that are particularly appreciated and recommended for sexual intercourse and foreplay. Designers have started designing this sexy men's gay underwear in materials like mesh and delicate rayon. These bodysuits enhance your occasions perfectly.
The brand that should be considered for purchasing bodysuits is -Miami Jock. The bodysuits which should be considered by gay men are -Miami Jock Bodysuit, Miami Jock Bodysuit. All these styles are available on Skiviez.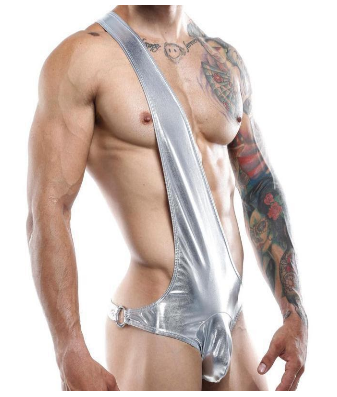 The last style which we have in the mens gay underwear category might be surprising for men. It's your traditional mens brief underwear.
STYLE 4:BRIEFS
Briefs are most considered classic pairs of underwear which is great for everyday comfort. This is considered more of " daddy style" as briefs were highly famous in ancient times. But besides straight men, gay people do love to own one. This style of mens underwear is great when you need to go out and want everything to stay in one place. This style is known for providing huge comfort and support.
Briefs for men flawlessly fix themselves on your abdominal area and the thigh region without letting anyone know about their presence. Whether you are wearing fitted or skinny trousers, no one will ever come to know about this classy pair of underwear.
This style of men's gay underwear is best found on Intymen. Our favorite pair of mens briefs are Intymen Femme Brief, Intymen Mesh Pouch Brief and Intymen The Brief. Don't forget to add them to your closet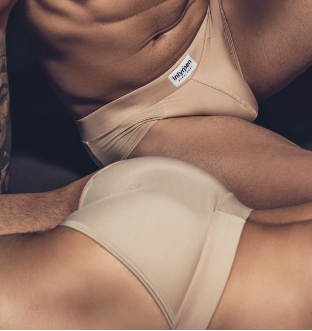 For the more men's underwear reviews and men's underwear blogs stay tuned with us.