The highlights of the style
Speaking about the collection, Modus Vivendi Leather collection comprises of Leather jockstrap, brief underwear for men, boxers, men's Tanga briefs and shorts. If you are looking for something unique, we would suggest you pick styles such as leather bottomless, low-cut men's brief etc. Modus Vivendi's leather collection does include leather shirts in different colors and to top it all, you can pick leather hats as well.
About the brand
The account of Modus Vivendi is the zenith of a Dream. A Dream to go past restricted decisions. Situated in Thessaloniki, Greece, Modus Vivendi dispatched in December 1989 by the Greek Designer Christos Bimpitsos as a more custom-made way to deal with selective men's underwear, swimwear, and active apparel. To know more about Modus Vivendi brand click here:
The entirety of our pieces of underwear is planned and produced in Greece. From the great textures to the selective hand-plan and rich bundling, anticipate only the best. The Modus Vivendi group works intimately with extraordinarily chose accomplices to guarantee that our quality is the best in the men's clothing world. During the time we have built up our assortments to bring to the table a style to suit each inclination, continually utilizing the best textures for unrivaled delicateness and solace.
All MV manifestations draw motivation basically from Greece's notable pictures and history. We interface with our foundations utilizing plans from antiquated Greece [Meander, Iconic]. We develop the splendid personalities and thoughts that have preceded us; we're taking them ahead to impact men in various manners. We mix our Creative Talent with Life, Art and People from around the globe; regardless of whether it is a painter, a movie producer, a music plot, or a renowned individual we love. The MV World draws motivation from our Vision: to convey another involvement with men's clothing design with the Male Way of Life. We need you to set new norms and communicate and your decent variety beginning with your clothing. We break standards in the mold and acquire fun the plan of men's clothing, abandoning the conventional and plain exhausting clothing.
Their Moto was and consistently be: "We do what we do because we love it"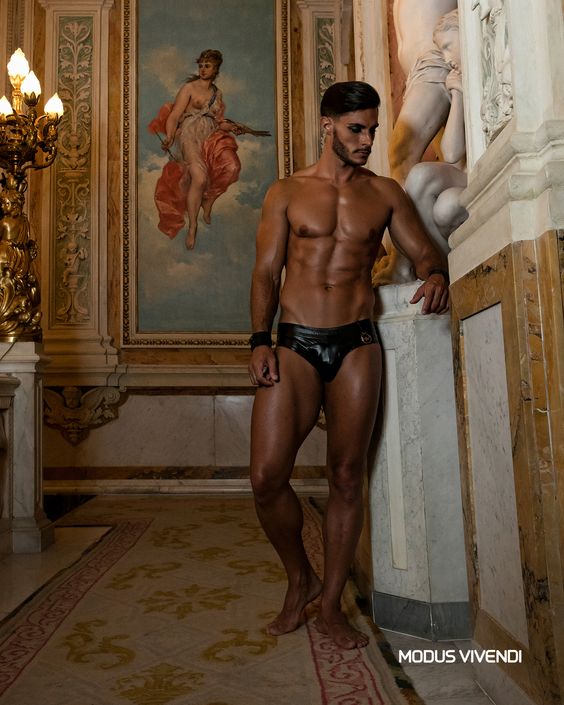 Image Source: Pinterest
Model:
Ale Rodriguez
https://www.instagram.com/alerguezx2/
If you want to see a post on Instagram where the model looks stunning and satisfied in Modus Vivendi leather based underwear? Check it out here –
https://www.instagram.com/p/CFXUnSOFgse/
About the men's underwear
These leather-based male underwear consist of polyester Fillam Pelle which offers you the extreme comfort and embrace your features hence there is no looking back once you picked any male underwear from this collection. With the addition of a metallic free nickel brand logo in these men's underwear , designers have tried to spice it up to your male underwear. When you are thinking to make your foreplay interesting, leather jockstraps for men or men's briefs can be trusted and if you want to know how to style them you can check out our campaign.
Although all the pairs are strong enough to last for months still for their better health we would recommend you either wash these male underwear gently with hands or set your washing machine at 40 degrees C. They have launched all the styles in all the sizes because we understand, not every man is the same.
Fabrics Used
Polyester Fillam Pelle 100%
Colors available
Black
Sizes
Small, Medium, Large, Xlarge
Price
$39.45
Buy it here:
https://e-modusvivendi.com/new-collection/leather-line
https://e-modusvivendi.com/underwear/brief/leather-brief-20515-black/
Read more here:
Why Mens Jockstraps is so essential for men?
5 Brands of Thongs You Need to Try Today
Mens underwear styles to flaunt on 2021 Underwear Day
Male celebrities swear by men's underwear for great confidencem!