Introduction
At the point when you consider mens underwear style one brand rings a bell more than others is Body Aware. They have consistently made very fun and unimaginably hot underwear for men. Since the start, Body Aware's only aim was to provide the best mens lingerie to its buyers in order to set an example in the field of underwear fashion. Body Aware underwear is widely accepted as the mens underwear brand which has something for everyone. You cannot turn back once you slip into this pair of mens boxer brief underwear, so try it once.
About the brand
Nowadays, there are new brands of male underwear coming out practically week by week, so it is hard to envision when men's decisions were restricted to only a couple of huge brands offering basically similar items. Body Aware was a sensation during the 1990s in light of its imaginative ideas and unique plans that thought outside the box in men's design. It is this effort that made Body Aware the most loved mens underwear brand among the male population. There is no space for discomfort and boring plans when Body Aware is there.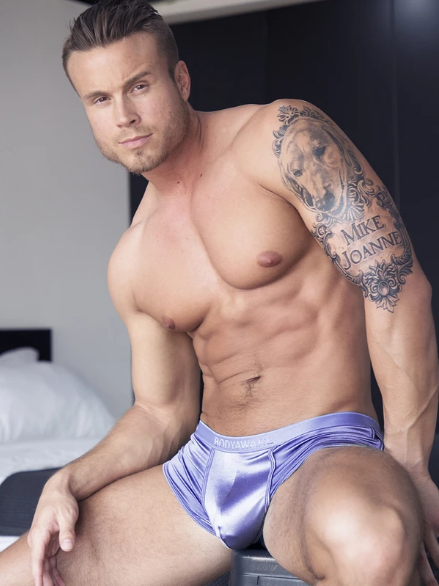 Image Source: Body Aware
About the variant
Rich and luxurious satin mens boxer brief with a built-in and contoured pouch that is comfortable and spacious. This sleek short features the use of minimal fabric to show plenty of thighs! With dyed-to-match Body Aware logo elastic around the waist and trimmed in matching satin edging around legs for a smooth and fitted look. The back features a shaped center seam for the best butt definition! This mens underwear style is way more than just looks. It accompanies confidence, support, and a stylish look.
Main features
Sleek boxer brief
Comfortable logo elastic
2.5″ inseam
Center shaping seam in the back
93% nylon/7% spandex
Machine wash
Imported for BodyAware
Size
Small
Medium
Large
Extra large
Double extra large
Color in series
Purple
Red
Blue
Black
Why do we like it?
We like everything regarding Body Aware when comes to mens underwear styles. They offer unique variants and have something for everyone. Check out the Instagram post and look for yourself how astonishing you'll look. Check it here:
How to keep it new?
There are no additional efforts needed to keep this pair of mens lingerie new always. Just certain precautions while handling it would do wonders. Do not through your variant into the dryer, make sure you wash it softly with your hands. Do not put it to direct sunlight once you plan to make it dry. Do not bleach.
Price
$28
Buy it here: