The highlights of the style (the product you are introducing)
Cover Male Tropics Micro bikini is one of the sexiest male bikini. This sexy male lingerie comes with various features such as a contour pouch in the front which holds your manhood firmly yet gently. On the front section, it includes contrast colored piping which makes your men's bikini underwear unique. Cover Male Tropics bikini underwear for men comes with a slender waistband.
Creators have included a small patch of fabric to provide coverage to your butt crack and have enclosed it with the help of contrast colored piping.
To avoid irritating labels, the brand has placed the Cover Male logo on the pouch section.
About the brand
Enchantment and extravagance are what you get with Cover Male men's underwear. The brand offers both consistently and sexy styles that join manliness, tastefulness, and class while offering men an opportunity to entertain themselves. They are completely planned for the man searching for a provocative, one of a kind, current look with regards to their underwear.
Cover Male was set up in 2011 and the main assortments were dispatched in January 2012. Designer Tarek Al-Halabi needed a line that gave men the enhanced "it" clothing. He noticed that men were beginning to extend their style wants when it came to lingerie. Cover Male originators need each man to be wearing their alluring styles.
Underwear is made with excellent fabric to guarantee an comfortable fit. For energetic look, originators have included sheer designs, all things considered, what he is wearing under his garments ought to stay a mystery.
Cover Male focus is to catch the eye of men and attention of his audience as well! Creators need the underwear to give men an additional increase in certainty. Realizing you have a splendid, wild bit of clothing under a suit, workout garments, or just pants give men naughty certainty to vanquish the world. Other than certainty, the line is made considering class and refinement. Designers at Cover Male consider white underwear for men old school.
To know more about this men's underwear brand click here: Cover Male
Model:
Ivan Akula
https://www.instagram.com/ivang1984/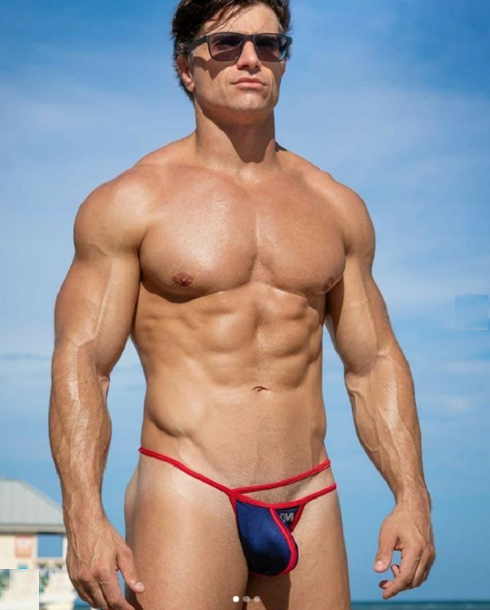 Image Source: https://www.instagram.com/p/CFb8bwvHJ-Q/
About the men's underwear
Cover Male Tropics Micro Bikini is perfect for modern men. The reason for suggesting you wear this is its comfort and lightweight feature that makes the stay of a person great. Even though these men's bikini is revealing and delicate, still they are capable of providing you a great amount of support due to contour pouch in it.
This men's bikini underwear can be worn on the beach and for foreplay as well. These are not recommended for your day-to-day-activities. Its slender waistband doesn't let anyone know about themselves. This male bikini comes with the brand's logo instead of irritating labels. The logo is placed on the pouch section hence it's quite easy to find it.
This men's lingerie is not ideal for your machine wash, neither for tumble drying. Wash them gently with hands and with gentle soap.
This men's lingerie is not ideal for your machine wash, neither for tumble drying. Wash them gently with hands with gentle soap.
Fabric Used
Polyamide – spandex
Colors available
Black
Navy
Royal Blue
Sizes
Small, Medium, Large, Xlarge
Price
$13.68 – $15.31
Buy it here:
https://www.covermale.com/products/cover-male-cmi036-tropics-micro-bikini
https://www.ebay.com/itm/Cover-Male-CMI036-Tropics-Micro-Mens-Bikini-Sexy-V-Shaped-Back-Erotic-Underwea-/283985193733
Read more here:
Brand New: Intymen Obscene Bikini
Damn! Why Don't You Have Men's Bikini Underwear?
The only aspects that define Daniel Alexander bikinis
The only men's underwear questions that you're too embarrassed to ask