The highlights of the style
This incredible men's jockstrap is something that you cannot ignore due to its amazing features. This incredible pair of men's underwear has been designed in new ribbed textured fabric which is extremely comfortable and a little bit sexy. Don't you feel so!
This sexy male underwear comes with a protective pouch that supports and protects your manhood. Once you slip into these male jocks you will feel as if nothing is covering your male genitals. This male jockstrap come with jet black waistband and have been designed in super soft and flexible materials.
About the brand:
These amazing male sexy jockstrap are from the Box menswear which is a distinctly British men's underwear brand where premium quality fabrics are used for designing them. As a brand, they do not believe in compromising with features like comfort and quality.
Styles like boxers and men's briefs from Box menswear are crafted from soft stretch fabric with a distinctive branded elasticated waistband that is extremely comfortable, durable and supportive and offers smooth as well as close fit.
Each style of men's underwear from Box has been designed and distributed in the UK.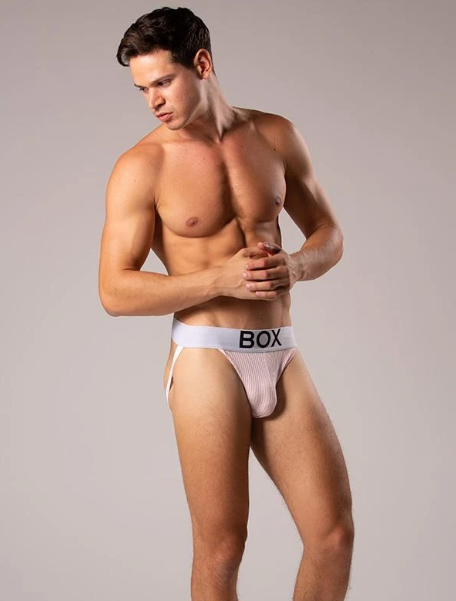 Image Source: Box
About the men's underwear
These male jocks are just like your ordinary pair of men's sexy jockstraps, designers have kept them simple. The feature with which they have tried to play is the fabric part. The ribbed texture of the fabric used in it has made it unique.
Speaking about the structure, it includes a pouch, waistband and two straps at the back which embraces the shape of your two chiseled shaped butts. These jockstraps for men are so lightweight and stretchable that you can wear them for performing your regular activities. Whether it's about giving your 100% at the office or pushing your limits in the gym, 92% Cotton 8% Spandex will help you to do that. Also, the cotton used in it makes your underwear breathable, skin-friendly, summer-friendly and best for those who are prone to skin infections such as chafing, rashes and sweating.
This entire male lingerie has been held tight with the help of its broad waistband that showcases the brand's name. Ribbed jockstraps by Box menswear do not promote irritating labels. Men who have been searching underwear which can promote their manly features ina positive manner, can think of ribbed jockstraps. Though great physique is great but men who are blessed with confidence, are the ideal men for these jockstraps for men.
Besides that, washing instructions should be kept in min. These male jocks are machine-friendly but still, we would suggest you wash them gently with hands. No bleaching, ironing or dry cleaning. For drying, say no to tumble dry and lay flat on a towel to dry.
Model
josh watson
https://www.instagram.com/josh_uk/
If you want to know more about this variant of mens sexy jockstrap underwear then check out the Instagram post, click here:
These are available in different sizes and colors.
Fabrics Used
Fabrics which are used in creating these men's underwear are 92% Cotton 8% Spandex
Colors available
Pale plum, light grey, Red, Military Green
Sizes
Small, Large, Medium and Xlarge
Price
USD $43.00
Buy it here:
https://ca.boxmenswear.com/collections/jockstraps/products/ribbed-jockstrap-pale-pink