Image Source : Addicted
Features that make the style a must-have Ring Up Neon Mesh Bikini
Addicted men's underwear new launch is bikini underwear made with new technology RING UP. For men who are not aware of RING UP technology, it's the combination of Cockring (removable) and Push UP.
Addicted as a brand has been designing swimwear for men and nowadays focusing on expanding their collection.
Addicted Ring Up Mesh bikini underwear for men is great for those who are fitness freaks due to 80% Polyamide and 20% Spandex.
This men's bikini underwear offers fuller erection and extra volume with extra lift. Men who are fond of neon-colored lingerie can give this style a shot as it comes with 4 Neon Colors. This style has been designed and made in Barcelona.
Why have these?
New and revolutionary neon bikini underwear for men is a must-have due to its crazy color options. The advantage of this male lingerie can be taken by both straight as well as gay men. It's stylish, offers good back coverage, and keeps you going all day long.
Another reason to wear this style is its fabric composition. This sexy male underwear is designed in polyamide and spandex and mesh fabric as well. Men's mesh underwear is like a treat to the eyes of the audience therefore it's good to wear for sexual intercourse. Mesh underwear offers great ventilation and protection while working out. You will be surprised to know that mesh underwear is recommended for the workout.
Because it is a skinny pair of underwear, you can move freely and also, it enhances your features very well. Cocking and pushup technique contributes to a fuller erection, volume, and lift.
For a comfortable experience, purchasing this pair in the right size is essential.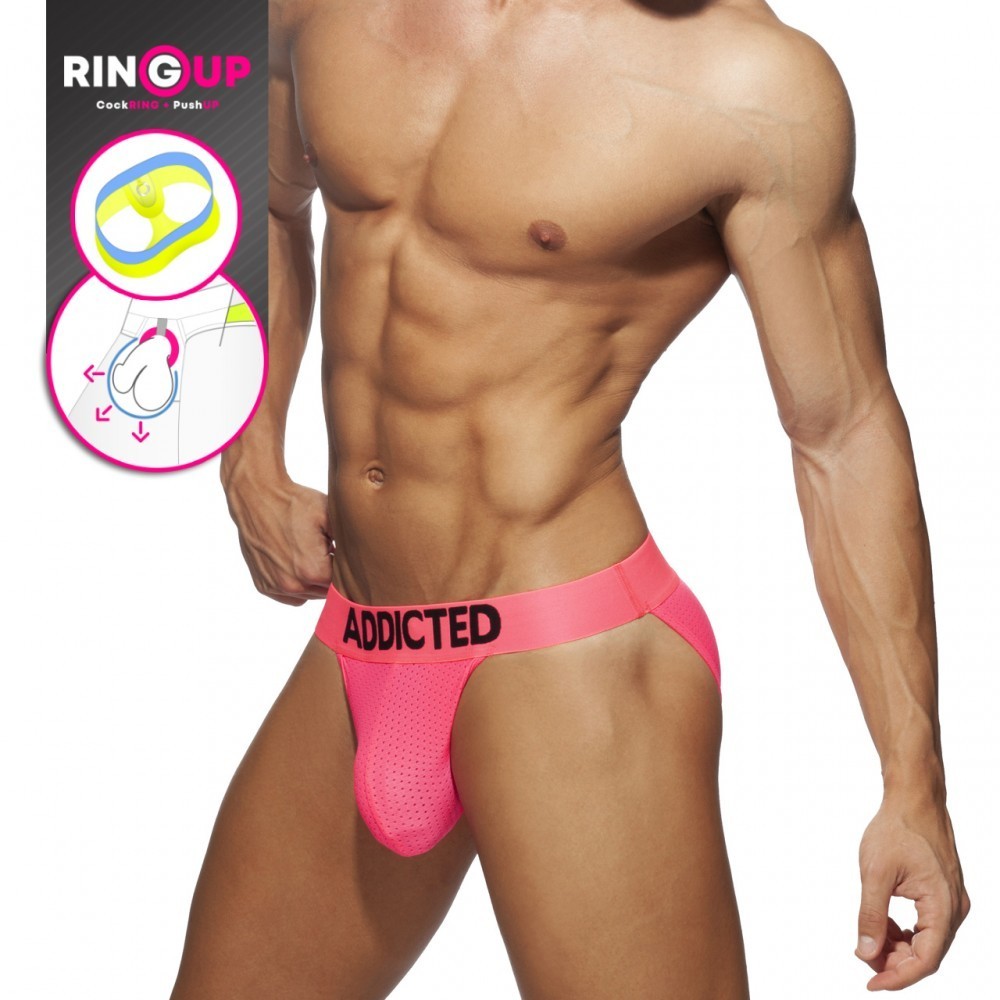 Why you shouldn't have this men's underwear?
None
About the brand
Addicted has not exclusively been planning swimwear, however has additionally been working on the expansion of their range. Addicted as been coming up with new underwear, men's swimwear, and sportswear ranges. These days, Addicted is a model brand within men's fashion, and more specifically, inside the gay sector, one that strikes to mind when considering gay men's style.
For offering Addicted merchandise in the Southern United States, they have come up with an ADDICTED DALLAS store. This is the exclusive store for Addicted merchandise. This sexy male underwear brand was founded in 2009 in Barcelona, dedicating itself completely to the design, manufacturing, and sale of men's swimwear.
To know more about the brand, click on the link below
Product fitting
Snug-fitting
Best occasions
Fabric composition
80% Polyamide – 20% Spandex
Available sizes
XSmall
3XLarge
Small
Medium
Large
Xlarge
XXLarge
Why would we recommend it?
Besides the right comfort and support, the fabric composition makes this pair a must-have. This bikini underwear for men is designed in polyamide (80%) and spandex(20%).
Polyamide, also known as Nylon provides unbelievable comfort. Polyamide or nylon-based underwear for men is the perfect underwear for those looking for a lightweight and silk-like underwear. Mens bikini underwear made out of spandex is stretchy as it molds according to the wearer's skin.
This pair of lingerie is good to wear even when you lose or gain weight, weight fluctuation has zero impact on its comfort and support factor.
This bikini for men is great for those who are into intense exercises.
Spandex underwear for men is ideal for the summer season as it's soft and cool on the skin. This pair moves with you for ultimate comfort.
This sexy male underwear is available in various colors such as neon pink, neon orange, neon green, and neon yellow.
Price:
$37
Buy it here:
https://www.addictedusa.com/underwear/1334-ad953-ring-up-neon-mesh-bikini.html
https://www.gentlewear.de/en/addicted-brief-ring-up-neon-mesh-bikini-ad953-neon-yellow.html
https://outonthestreet.ca/products/addicted-ring-up-neon-mesh-bikini-ad953
Read more here:
Underwear Review: Hunk2 Swimsquared Panthere Reversible Swim Briefs
Brand Review: Pump Underwear
Underwear Review: Touchdown Big League Boxer
Underwear Review: Male Power Satin Spandex Low Rise Shorts