Introduction
Please join hands together for one of the most luxurious looking men's underwear offered by the popular brand Male Power. Known as the Male Power Satin Spandex Jock, this men's jockstrap underwear is a clear motivation to keep you going on those rough days when you don't feel like heading out for a workout.
Before heading down to know more about the men's jockstrap underwear, check out this Instagram post featuring the sexy product.
Click here – https://www.instagram.com/p/CFhDvUwgxkA/
Main features:
The sexy satin fabric and its luscious texture are most likely motivating, be that as it may, the traditional jocks for men cuts in the back is what makes this underwear for men a combination of traditional as well as modern. The features keep you feeling intrigued by the show. With the quality material, fit, and feeling combined with the genuinely sexy back, this is sexy underwear for men that is both agreeable and down to earth enough for all-day wear. The men's jocks are just as being something to wear either for intimate moments or as something sexy to uncover when you bring down your jeans. Take a look at the key features of the male jocks by Male Power Underwear below:
Made in the USA. Please refer to the size chart to ensure you choose the correct size.
Composition: 95% Cotton 5% Lycra. Smooth satin cotton fabric.
Minimal rear coverage features wide rear straps for extra athletic support.
The pouch is seamed for support and definition.
Wash Separately, Drip Dry, do not Bleach.
Pouch with contour seam base for support.
Fabric-covered elastic bands around the pouch for fit.
Narrow, soft-backed elastic jockstraps.
Exposed elastic waistband with a jacquard Male Power logo waistband.
Tag is attached horizontally to the inside of the waistband at the center back.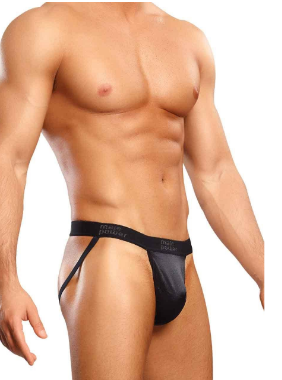 About the brand
Male Power is a renowned men's underwear brand we've surely had a lot of involvement in up until now, with something like 9 unique styles spread around the underwear cabinet. A welcome expansion has been the Satin collection by the brand and out of which we're talking about the men's jockstrap underwear. It is a design that is practical and luxurious at the same time. The men's hot underwear brand also features a wide variety of styles including men's bikinis, male thongs, and others. Know more about the brand here
Fabric Used
Fabric composition: 95% Cotton 5% Lycra. Smooth satin cotton fabric.
Sizes
Small/Medium: 28-34 71-86
Large/X-large: 36-42 92-107
Colors
Royal blue, Red, and Black
What do we like?
The lustrous appeal of the men's jockstraps
The conventional rear that pushes your butt out
What can be the problem?
The size can be a problem as the measurement runs bigger. If you are who wears an XL, buy a Large one.
Price:
$7.20 – $17.12
Buy it here:
https://malepower.com/product/satin-spandex-jock/
https://www.amazon.com/Male-Power-Satin-Lycra-Jock/dp/B07BLKVDPC
https://malebasics.com/male-power-satin-lycra-jockstrap
https://www.hisroom.com/male-power-390-076-satin-jock.shtml
https://www.steveneven.com/products/male-power-390076-satin-lycra-jockstrap-red
https://www.manhood-undies.com/male-power-satin-lycra-jockstrap-mens-underwear/
http://www.internationaljock.com/male-power-satin-lycra-jockstrap-red,9553.html
If you need any suggestion or men's underwear motivation about any men's underwear style then stay tuned with us.