Introduction:
Charcoal Brief underwear for men by Blanc is one of the best pairs, not because their structure is way out of the league or erotic, its the combination which is used in it makes it different. Regardless of the occasion, you have the freedom to wear them wherever and whenever you like to.
Main features:
These men's briefs offer standard fitting. For extra comfort and the right support, designers have designed them in premium fabrics, #Nohassel. Blanc Charcoal briefs for men come with a super soft waistband so you don't have to face those red marks caused by lingerie's waistband.
These pairs of men's briefs can be washed in the washing machine but in cold water. One shouldn't opt for techniques such as bleaching, low heat dry, or ironing as they are not required. These charcoal briefs for men by Blanc are slim fit so if you wish to have them in a standard size, you need to order the next size up.
About the brand
Fashion and luxurious men's underwear at affordable prices- describes the Blanc the best. Blanc offers all the styles such as men's briefs, boxers, jockstrap underwear for men and mens swimwear as well. Trunks are what they got under the swimwear category.
They have a separate section of Loungewear and new arrivals. Blanc even comes up with an offer called 3 FOR 2.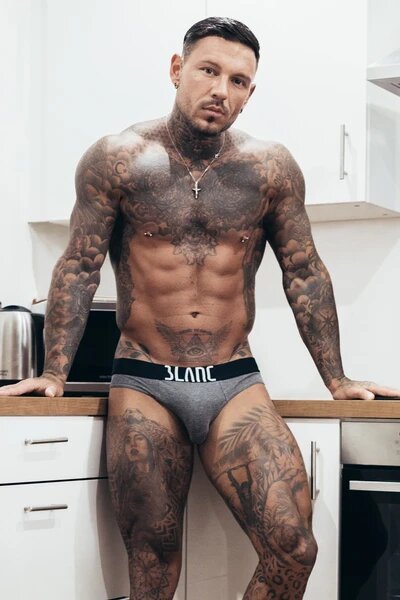 Image Source: Blanc Menswear
Fabric Used
Fabrics that have been used in it are 95% cotton and 5% elastane
Sizes
XS, S, M, L, XL, XXL
Color
Charcoal
Model
Scott Hastings
https://www.instagram.com/scott_hastings_fit/
If you want to know more about this Blanc Charcoal Mens Sexy Brief Underwear then check out this Instagram post, Click on the below link:
https://www.instagram.com/p/CFP7JWZnJML/
What do we like?
We loved everything about these men's briefs. From fitting to the choice of fabrics, everything is perfect and ideal for working man.
These standard brief underwear for men looks great on people who are properly shaped but looks better on those who prefer carrying them as if they own it. Speaking about its design structure, it is skinny because of which you get a great amount of leg movement and freedom to pursue your regular activities. For better security, designers have included a contour pouch in it and the width of the waistband used in it is capable of holding your waistband firmly.
Speaking about the fabrics used in it, these men's briefs are designed in premium quality cotton and elastane which leads to a higher amount of stretchability, flexibility and comfort. Well, the presence of cotton on these male briefs makes it breathable and ideal for the ones who are prone to skin infections. You can consider wearing them for gym activities as well. Its broad waistband showcases the brand's name.
Usually, styles such as male jockstrap, men's G-string, thong underwear are recommended for foreplay and sexual pleasure but we would recommend you to have these charcoal briefs because it is the way they embrace your entire personality is out of the world. We would suggest you to pick the ones that are designed for your manhood.
What can be the problem?
These are filled with so many benefits that you cant spot one problem with them.
Price:
$16.79
Buy it here:
https://blancmenswear.com/collections/briefs/products/charcoal-brief
Read more here:
5 Things You Should Do In Thong Underwear
Things you most likely didn't know about Men's G-string underwear
The men's guide to underwear for all different body types
Why Mens Jockstraps is so essential for men?