Introduction
To make things subtle and sexy, 2eros presents this designer jockstrap for men. Built with nothing but fascination, this piece offers more than you can think of. So, hang tight until you decide what is good for you and what is not.
About the product
The very first sight of this product brings words like premium, luxury, exotic and erotic in mind. If you don't believe then just take a break and have a detailed look at it. At the front of this designer men's jockstrap, you are offered a pouch for your special front tool. This pouch is built with a specially manufactured mesh that is equipped with elasticity and has the ability to offers enough room for your genitals to expand and relax freely. This pouch is built with a contour formation that gives a firm hold, support, and prevents them from dangling. Moving to the back, this designer men's jockstrap offer you a pair of straps that are usually seen in men's jockstrap underwear. These straps are built to give your buttocks the support they always wished for. This prevents them from swinging and gives you a sexy outlook. All of this is attached to a colored waistband that has some lustrous qualities and has the brand's name written on it, adding style to your personality. The waistband is responsible for holding all your assets.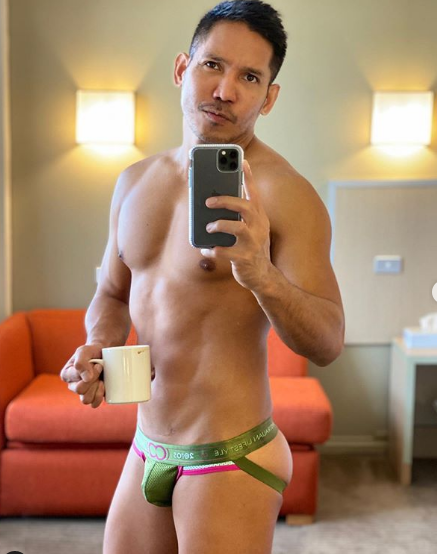 About the brand
Established in the year 2008, 2eros is one of the very few men's underwear companies that glorifies men's lingerie in a way that is staggering. Followed in the creative and innovative guidance of Australian designer, Jason Hoeung, 2eros is Australia's rising men's underwear company. Their unconditional love and dedication towards the products and the customers are finally recognized. Since the establishment, 2eros has never turned their back. Their special range of men's beachwear and activewear is isolated from the mediocrity.
To have a virtual experience, just log on to the video.
Model
Baz lyndon, one of the finest models in the industry. Baz is not just a model to the brand but a friend who knows the in and out of the products. He is one of the few people who actually know how to wear it and present in a way which is appealing in every term.
https://www.instagram.com/saintbaz/
Features that make U93 Aeolus Jockstrap Underwear – Green Gale a must-have.
Comparatively thinner waistband that helps you showcase your pelvic 'V' line
Pouch that is double-layered, built to give you support
Develops 'contact-less' support that helps in reducing, chaffing and sweating
Builtwith a quick-dry mesh to keep the environment dry and cool.
4-way stretch mesh that leads to maximum mobility which helps you keep moving throughout the day.
Product fitting
Apt is the word I wish to use when I need to talk about the fitting of this product. As visible in the image, this sexy men's jockstrap is apt in fitting, which makes it neither too loose nor too tight.
Fabric quality
Built with a decent composition of 88% Nylon and 12% Spandex, 2eros has reached the perfect point where the existence of every fabric is neither too much nor too less. Spandex is used minimum in the underwear and nylon the maximum.
Size
Size is one of the very few things that has an exponential effect on the wearability. To make you aware of what we have and what you need, here is a table that shows all the sizes of the products.
Extra Small 28-29", Small 30-31", Medium 32-33", Large 34-35, Extra Large 36-37", XXL 38-39
Best occasion
To my recollection, a men's jockstrap is underwear that falls under the men's lingerie section and men's lingerie is used in situations which are not needed to be said. If you know what I mean then this designer men's jockstrap is the perfect fit for you.
Buy it here:
https://2eros.com/products/aeolus-jockstrap-underwear-green-gale
https://www.amazon.com.au/U93-Aeolus-Jockstrap-Underwear-Green/dp/B0894YQ5WX
https://www.gent.one/products/aeolus-jockstrap-underwear-green-gale