Introduction
Don't you just love modern art? The stylish new Deco Penis Brief is definitely worth a thousand words! The unique Deco Penis print in this mens underwear creates an effect that is both mesmerizing and fabulous. Plus, with the help of a signature waistband from the mens underwear brand Andrew Christian and built-in Almost Naked pouch, you'll feel like you're not wearing anything at all! Andrew Christian underwear has never failed to surprise its customers and hence, this underwear for men is taking the fashion on another level.
Main features of this mens brief underwear
This pair of mens brief underwear is beyond your expectations. This male brief has virtually eliminated sticking, squashing, re-adjusting, sweating, and chafing. Your package will fall naturally into the anatomically correct pouch to create a truly enjoyable and unique wearing experience. This mens underwear is for the men who like to enhance their fashion! If you are interested in gaining more information regarding this Andrew Christian underwear then see this Instagram post and enhance your knowledge. Click here:
https://www.instagram.com/p/CFfz6gLJ-1n/
Some more features are mentioned below to enhance your information regarding mens brief underwear.
Limited Edition Style Will Never Be Made Again
Stylish Update of Classic Brief
Features Limited Edition Deco Penis Print
Comes With Almost Naked Anatomically Correct Pouch
Comes With Signature Slimming Andrew Christian Waistband
Features Stunning Contrast Details
Feels Like You're Not Wearing Anything At All
No Hidden Cups, Straps, Or Padding
Designed In The Andrew Christian Design Studio In Los Angeles, California
About the brand
Andrew Christian is an American men's underwear, swimwear, and athletic apparel maker established by designer Andrew Christian. This mens underwear brand is most popular for its pairs, which incorporate style, games, and fashion lines, accessible in different styles. Perhaps the best is the fascinating line of actually progressed, exclusively woven underwear for men. Andrew Christian is the brand which keeps the trust of its customers and has the top-notch materials for the composition of mens underwear. It has come a long way and is working hard to include new mens underwear styles in the fashion industry.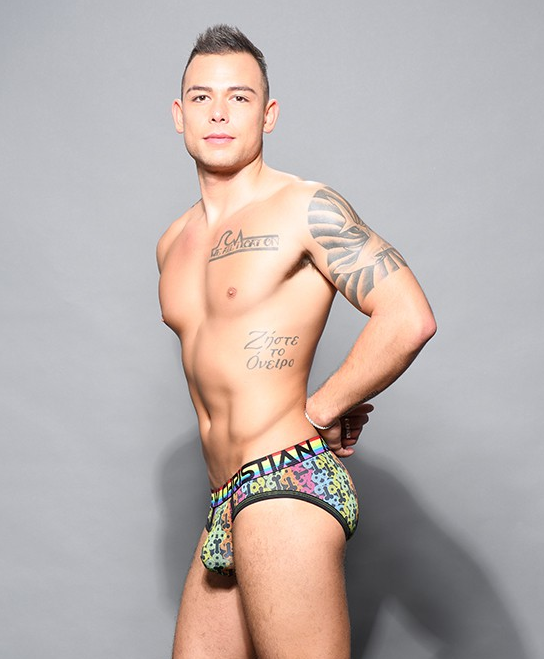 Image Source: Andrew Christian
Fabric content
Fabric Content: 90% Polyamide 10% Spandex
Size
Extra-small
Small
Medium
Large
Extra large
Color
Rainbow
What do we like?
We like everything regarding Andrew Christian underwear including the coverage, cuts, construction, style, etc. This pair of mens brief underwear has the ability to offer you all that you want from your mens underwear.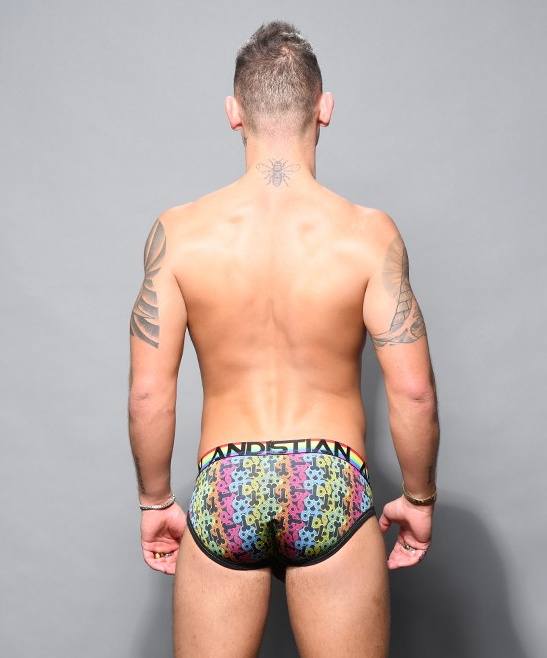 Image Source: Andrew Christian
What can be the problem?
The problem that can occur in this mens brief underwear is the uncomfortable fit which happens due to the incorrect size.
How to keep it new?
Machine Wash Cold
No Bleach
Low Heat Dry
Do Not Iron
Price
$26.63
Buy it here:
https://www.andrewchristian.com/deco-penis-brief.html
https://www.inderwear.com/en/22-brief/32225-almost-naked-deco-penis-briefs-rainbow-andrew-christian.html
https://outonthestreet.ca/products/andrew-christian-deco-penis-rainbow-brief-w-almost-naked-91658
https://menz-menzy.asia/products/deco-penis-brief-deco-penis-print