What Do You Think About Influencers Regarding Men's Thongs Giveaway?
Influencers are now one of the most important aspects of branding and increasing sales for a specific product. Although, it is very helpful for the company's branding. People in today's generation will not buy anything off the shelf, even if it is a bottle of hair oil. Everyone prefers brand products, even if they are only for cooking. Influencers and bloggers are available for every brand's product to give their reviews and feedback.
Customers today are savvy about these kinds of marketing strategies and often check reviews online before making a purchase. As a result, it's no wonder that they trust influencers who are more personable, less prejudiced, and provide detailed product reviews.
Here we have a few reviews regarding mens thongs where you can understand the product in a much better way.
Then we can decide, should influencers give away the men's thongs or not?
Here we go.
1. Perfect Underwear for Every Occasion: Men's Thongs
If you are wearing joggers, denim, or any skinny pair of lingerie, then you must go for the men's thongs to complete your outfit.
It is more than men's briefs and less than men's g-string underwear. The features it offers make it suitable for any outfit you wear.
Men's thongs Thongs are the best men's underwear style to date, thus influencers should host a small giveaway of them this holiday season.
2. No Guilt in Eating Plum Cake by Men – Men's Thongs
Christmas can be one of the major reasons for influencers to come up with a men's thongs giveaway for their shoppers and new customers as well. The best thing about male thongs is that no extra effort is required to fit into men's thong underwear.
You shouldn't have to give up your favorite plum cake just so you may look decent in a little pair of men's briefs. You can lose or gain weight with confidence knowing that male thong are made to accommodate a range of body types and sizes.
3. Problems With the Panty Lines of Men's Thongs?
Problems with the panty line may be familiar if you wear male boxers or men's brief underwear.
Men's g-strings and mens thongs, on the other hand, relieve the wearer of any stress, such as panty lines or chafing around the underwear. The fabric composition is so luxurious that it provides the comfort and flexibility to feel free all day.
As a result, this could be one of the primary reasons why mens thongs and g-strings are among the best men's lingerie.
4. Men's Thongs Available at Affordable Prices
In the West, Christmas is a major celebration. They have to be impressed by everything, from the table settings to the food, so don't make the mistake of suggesting an expensive set of male underwear.
This holiday season, it would be a good idea for influencers to do a little giveaway of men's thong underwear because it is convenient, supportive, and inexpensive.
Pricing should never be a barrier to purchasing men's underwear. There are numerous stores that offer various promotions and discounts on their products. Moreover, on this special occasion of Christmas, you can expect great offers and discounts on every product of men's underwear styles, including men's briefs, bikinis, jockstraps, g-strings, and male thongs.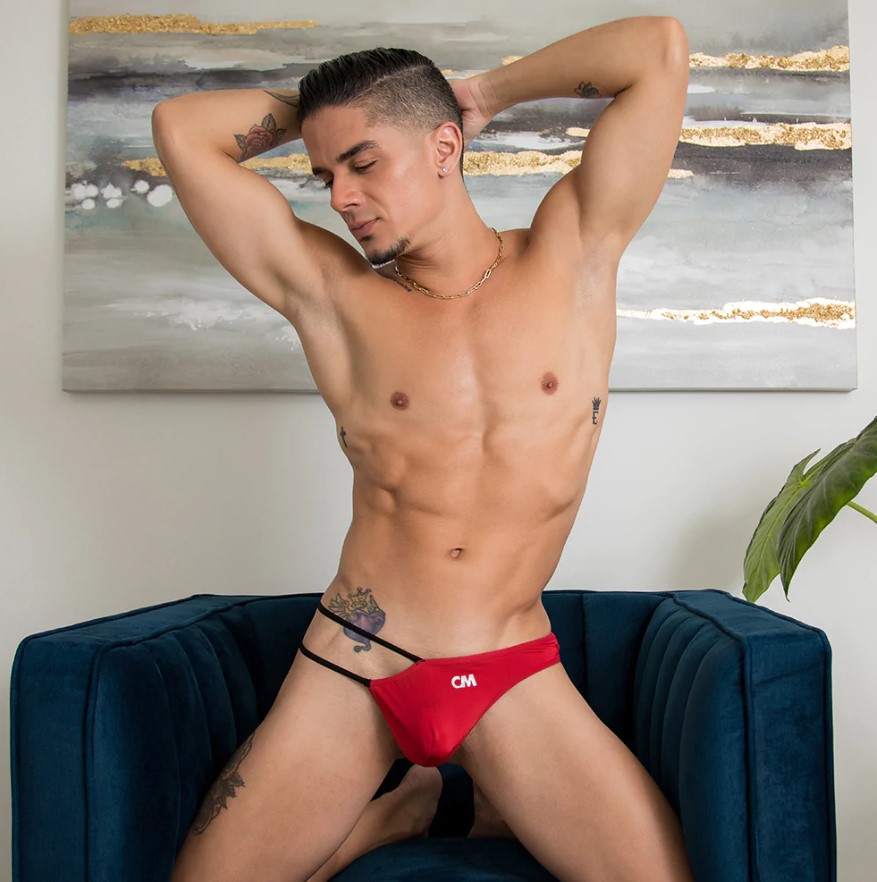 Hence, don't wait anymore; just grab your favorite and flaunt your body on Christmas by wearing mens thongs.
Wrapping Up
This holiday season, influencers could give out thong panties to their followers because their audience can readily identify with them. Thong underwear for men is a gorgeous style that manages to be both seductive and relaxing. And because of their slender cut, your thighs and buttocks will be on full display, boosting your self-esteem along with it. It's one of the few designs in men's underwear that may make you feel confident without sacrificing comfort.
The reason behind it is not its uniqueness or any other specialty. Everyone is aware of its features and how comfortable a pair it is after wearing it. When it comes to influencers, the product's value increases without any extra effort. However, the trust factor, confidence, and other possible factors come into play, and it helps people relate as well. Hence, influencers should do a giveaway of mens thongs.
You May Also Like:
Why Is Drinking Wine and Wearing a Men's Thongs to Thanksgiving and BFCM Week Meal a Smart Idea?
Get Yourself a Perfect Gift This Thanksgiving and BFCM Week!
Why Men's Thong Underwear Will Be Perfect for Thanksgiving and BFCM Week?
Skiviez Fan Contest: Have you already Participated?
New Launch: Good Devil Ass Jockstrap